"You came into the family and tried to separate us" – Terry tha Rapman & his Sister Joy Madaki come for Rapper Ikechukwu on Instagram
There is so much drama on social media these days.
Today,
Joy Madaki
– who is the younger sister of rapper
Terry tha Rapman
– went on her Instagram page to blast rapper
Ikechukwu
for allegedly talking smack about their family in an interview.
In the comment section, her close friends
Munachi Abii
and
Sarah Ofili
mentioned that it was unusual for her to be this angry and that for her to be this upset that means that "he went too far".
Joy's brother, Terry tha Rapman echoed her thoughts by reposting her rant on his page with his own caption.
He wrote that "Haha! I swear my lil sis is GANGSTA. Mr
@official_ikechukwu
we was never cool. Never had,never will. You came into the family and tried to separate us. Don't ever mention any of my family's name in any interview again. B****! Just admit you messed up the best thing in your life instead of BLAMING someone else! That's too easy to do.
#BANS
P.S: FOCUS ON YOUR ACTING CAREER. YOU ARE BETTER AT IT. Leave rap for us wey sabi."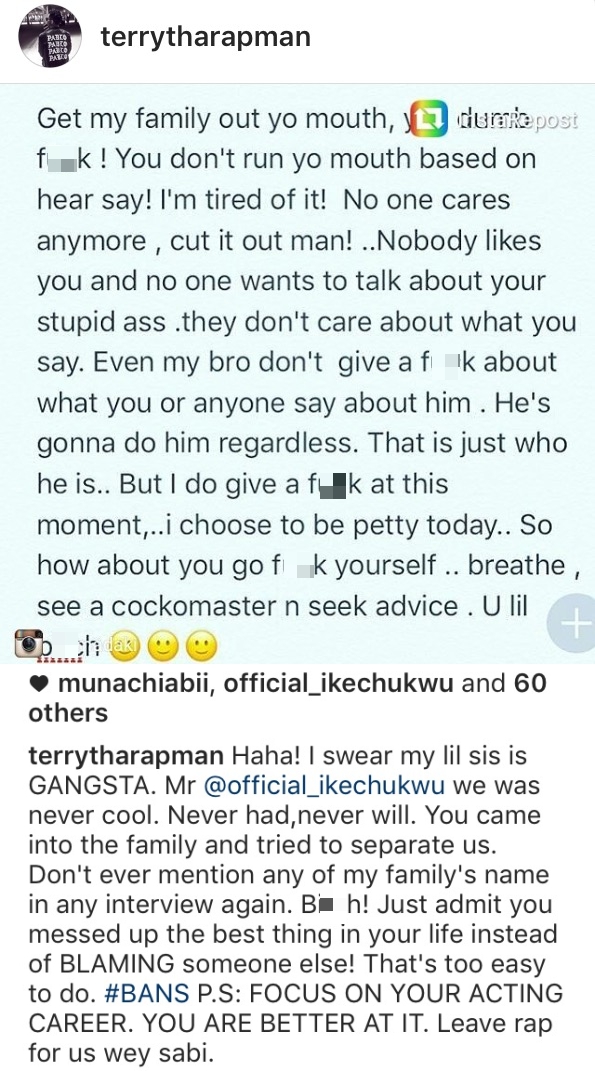 Interestingly, even though Ikechukwu has kept mum about the rants, he "liked" this particular post.